Hello
When I use cvx to optimize a problem, I also have a square matrix variable that is not diagonal according to the calculations on paper.
But the answer I get from MATLAB and cvx is diagonal.
Does any of you know where this problem could be coming from?
Thank you very much for your help.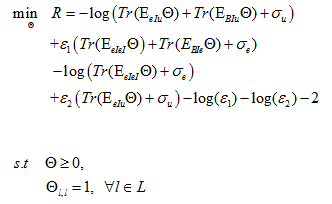 and my code is:
clc,close all,clear
ep1 =0.0086;
ep2 =0.0031;
var_u =10.^(-50/10);
var_e = var_u;
L=4;
E_BuII=46.6770;
G_eIuu=14.37;
E_BeII=65.76;
g_eIeI=8.6689;
n=L+1;
cvx_begin %sdp %quiet %cvx_precision best
variable X(n,n) hermitian %complex semidefinite hermitian
X == hermitian_semidefinite(L+1);
minimize -(log(trace(XG_eIuu)+var_u+trace(XE_BuII))/log(2))-(log(trace(Xg_eIeI)+var_e)/log(2))+ep1(trace(XG_eIuu)+var_u)-(log(ep1)/log(2))+ep2(trace(Xg_eIeI)+var_e+trace(XE_BeII))-(log(ep2)/log(2))-2;
subject to
for i=1:L+1
X(i,i)==1;
end
X == hermitian_semidefinite(L+1);
cvx_end
my results is: