I have a problem here . How can I solve it
Data:
input : https://drive.google.com/file/d/0BzytuMhrgIMOWHByaV9tVGhYNWs/view?usp=sharing
X ( d: 1575 , N: 49 ) contains in its columns the vectorized training images with d being the dimensionality of each images and N the number of training observations.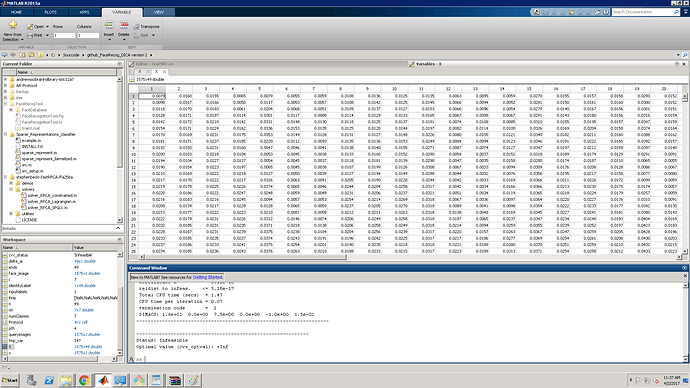 queryimage (d: 1575) is a vectorized image.
---
Code:
n = size(X,2);
cvx_begin
variable a(n)
minimize norm(a,1)
subject to
X*a == queryimage;
cvx_end
---
Output:
Calling SDPT3 4.0: 1673 variables, 98 equality constraints
For improved efficiency, SDPT3 is solving the dual problem.
num. of constraints = 98
dim. of socp var = 98, num. of socp blk = 49
dim. of free var = 1575 *** convert ublk to lblk
---
SDPT3: Infeasible path-following algorithms
---
version predcorr gam expon scale_data
NT 1 0.000 1 0
it pstep dstep pinfeas dinfeas gap prim-obj dual-obj cputime
0|0.000|0.000|3.6e-01|5.6e+01|2.5e+09| 2.768130e-05 0.000000e+00| 0:0:00| chol 1 1
1|0.014|0.890|3.6e-01|6.2e+00|8.9e+07|-6.607117e+03 -2.342315e+07| 0:0:00| chol 1 1
2|1.000|0.882|1.1e-05|7.3e-01|6.1e+06|-2.580880e+04 -4.559388e+06| 0:0:00| chol 1 1
3|1.000|0.368|3.2e-06|4.6e-01|3.9e+06|-1.521688e+05 -2.907350e+06| 0:0:00| chol 1 1
4|0.218|0.248|3.1e-06|3.5e-01|2.8e+06|-3.013709e+05 -2.200364e+06| 0:0:00| chol 1 1
5|0.694|0.154|2.0e-06|3.0e-01|3.1e+06|-2.269359e+06 -1.868173e+06| 0:0:00| chol 1 1
6|0.067|0.047|2.3e-06|2.9e-01|3.5e+06|-8.434676e+06 -1.783595e+06| 0:0:00| chol 1 1
7|0.023|0.024|2.5e-06|2.8e-01|5.0e+06|-2.692048e+07 -1.741752e+06| 0:0:01| chol 1 1
8|0.058|0.033|3.0e-06|2.7e-01|1.8e+07|-2.501300e+08 -1.687105e+06| 0:0:01| chol 1 1
9|0.017|0.032|3.2e-06|2.7e-01|5.8e+07|-1.572757e+09 -1.642588e+06| 0:0:01| chol 1 1
10|0.013|0.009|3.2e-06|2.7e-01|6.8e+08|-1.991626e+10 -1.633585e+06| 0:0:01| chol 1 2
11|0.021|0.011|2.3e-06|2.7e-01|1.3e+10|-4.132350e+11 -1.683176e+06| 0:0:01| chol 2 2
12|0.036|0.012|2.2e-05|2.7e-01|4.7e+11|-1.758230e+13 -2.788725e+06| 0:0:01| chol 2 2
13|0.001|0.016|4.9e-05|2.6e-01|1.1e+12|-5.443418e+13 -6.520184e+07| 0:0:01| chol 2 2
14|0.008|0.009|1.3e-03|2.6e-01|2.4e+13|-1.237089e+15 -2.039176e+08| 0:0:01| chol 2 2
15|0.002|0.001|8.3e-03|2.7e-01|2.5e+14|-8.987602e+15 -4.396276e+08| 0:0:01| chol 2 2
16|0.001|0.001|1.4e-02|2.7e-01|5.4e+14|-1.557068e+16 -2.914295e+09| 0:0:01| chol 2 2
17|0.001|0.002|2.6e-02|2.7e-01|1.4e+15|-3.411376e+16 -1.361923e+10| 0:0:01| chol 2 2
18|0.002|0.004|4.1e-02|2.7e-01|3.5e+15|-7.479164e+16 -7.331256e+10| 0:0:01| chol 2 2
19|0.003|0.007|1.1e-01|2.7e-01|9.7e+15|-2.029225e+17 -3.875892e+11| 0:0:01| chol 2 2
20|0.005|0.016|5.5e-01|2.7e-01|2.9e+16|-7.195577e+17 -2.651445e+12| 0:0:01| chol 2 2
21|0.012|0.033|4.1e+00|2.6e-01|9.9e+16|-6.406001e+18 -1.708287e+13| 0:0:01|
sqlp stop: dual problem is suspected of being infeasible
number of iterations = 21
residual of dual infeasibility
certificate X = 5.18e-18
reldist to infeas. <= 5.18e-17
Total CPU time (secs) = 1.47
CPU time per iteration = 0.07
termination code = 2
DIMACS: 1.6e+01 0.0e+00 7.5e+00 0.0e+00 -1.0e+00 1.5e-02
---
Status: Infeasible
Optimal value (cvx_optval): +Inf