Hello guys, I'm new with CVX and have some optimization problems. I am trying to optimize the SDP problem as following: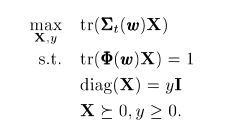 I made some changes to the variable name and the code as following:
cvx_begin
variable M_s(NM_t,NM_t) complex semidefinite
variable t
maximize trace(real(X_wM_s))
subject to
trace(R_DLM_s)==1;
for tt=1:NM_t
M_s(tt,tt)==t;
end
M_s==hermitian_semidefinite(NM_t);
t>=0;
cvx_end
I'm not sure if the function 'real' can affect the output. Is my matlab cvx code right?