Hi,
This is Saleem,
I am using CVX to maximize the SINR of convex optimization problem, the code is showing error, since i tried many times to debug errors. Anyone here can help me?
My designed problem is: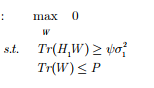 CVX code is:
clear,clc %Clear all
P=4;
m=2;
I=eye(m,m)
G= rand(1,m);
cvx_begin
variable W(m,1);
maximize 0;
subject to
trace(G*W) >=0
trace(W) <= P;
cvx_end
Your comments will be high appreciable.
Thanks