Hello,
there have been a few posts already on how to implement logical if-else statements for control constraints, and it seems like the common solution is to use the so called big-M method. To be sure this applies to my case, let me introduce my problem: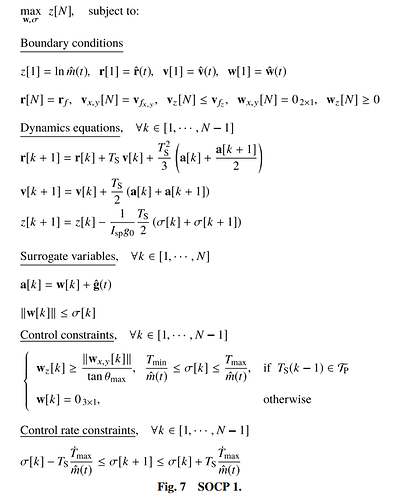 This is from the following paper:
http://arc.aiaa.org
| DOI: 10.2514/1.G004155
Now the authors implemented this method using CVX and the ECOS solver. I have access to both packages. The only confusion is dealing with the logical if-else statement for the control variable
w
, that has two values based on wether Ts*(k-1) will be within the bounds of a prespecified burn period described by the cursive T with subscript p (burn period lasts from t0 to t1, and then from t2 to t3). This control constraint is based on the burn period and explains it changes. Ts is the discretization interval between to steps and is defined as (Final time-current time)/(N-1) where N is the total number of discretization points set.