Thanks all.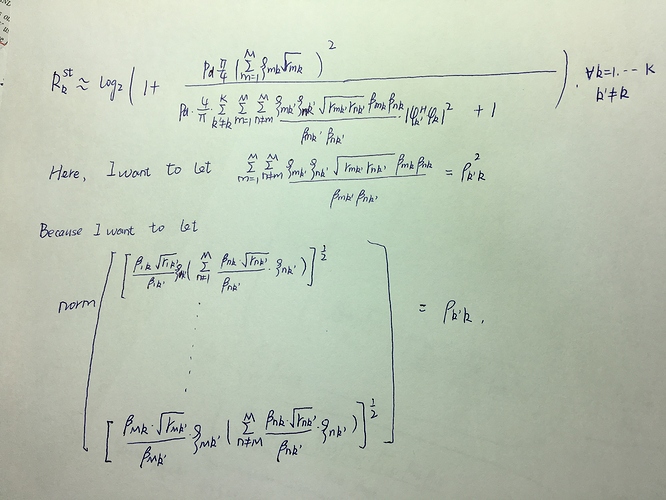 The picture should be less than or equal to rouk'k
This is my question. Here I want to prove it is quasi-concave. So I expressed the denominator in the form of a norm, finally, I can prove that the function of the up-level set can be expressed as SOC.
But there was an error in cvx:
Error using . (line 262) Disciplined convex programming error: Invalid quadratic form(s): not a square.
*
Part of my code is
cvx_begin 
variable cauy(M,K)
variable rou(K,K)
%% -----------------------------calculate subject 2 left
X = zeros(K,K,M);
for k=1:K
    for ii=[1:k-1,k+1:K]
        for m=1:M
            X(ii,k,m) =( 4/pi*abs( ( BETAA(m,k) * sqrt(Gammaa(m,ii)) * cauy(m,ii) / BETAA(m,ii) ) * ( sum( BETAA(:,k) .* (Gammaa(:,ii).^0.5) .* cauy(:,ii) ./ BETAA(:,ii) ) - BETAA(m,k) * sqrt(Gammaa(m,ii)) * cauy(m,ii) / BETAA(m,ii) ) ) )^0.5;
        end
        sb5_left(ii,k) = norm( X(k,ii,**:**) );
    end
end
cvx_end

In my question, only cauy is a variable, and all of the arguments are greater than or equal to zero. I hope you can help me. Thank you