Hi, the constraint is

where x,y are variables, a b c and d are real numbers. I know if the function has the follow structure:

It is SOC representable and can be expressed as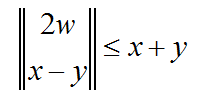 So, I want to know, can the first constraint be expressed as a SOC constraint? If it can not, how can it be transformed so that it can be solved by CVX?
Thanks.